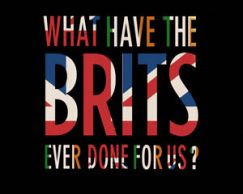 An authored documentary which highlights the uniquely complex relationship between Ireland and its closest neighbour in a provocative, entertaining and intelligent way.                                                      
The relationship between Ireland and Britain is a long one. It's also a very tricky one. While acknowledging this, we shine a light on our national blind spot when it comes to our relationship with Britain and the influence it has had on our development as a society and country.
This documentary was commissioned to coincide with the historic visit of Queen Elizabeth to Ireland in 2011 but this is not a history programme.
Her majesty's visit offered the ideal opportunity to examine the truth about our historical antipathy toward the 'Brits' despite the factual reality that their influence has been positive as well as negative and permeates almost everything in our lives.
We explore the uncomfortable truth about the positive influence the British Empire has had on us – whether we like it or not!
Broadcast on RTÉ One in May 2011.